Family Tree Drawings
Original and unique Family Tree - Perfect for your family wall!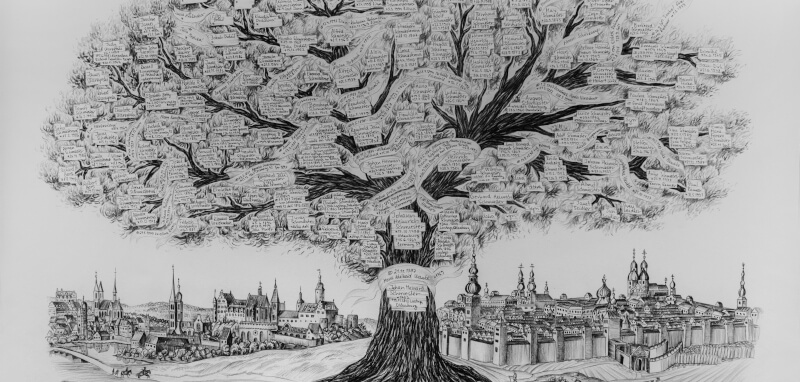 HAND DRAWING OF YOUR FAMILY TREE
Each drawing is hand drawn with your family tree details. Our team of artists will work with you to create the perfect drawing.


Completed Orders
Click on any of the images to see larger pictures.


Family Tree Drawing Available Size
These custom family tree drawings are available in the following sizes:
A2 size (60 x 62 cm) - suitable for 30-100 ancestors
A1 size (85 x 60 cm) - suitable for 50-250 ancestors
A0 size (120 x 85 cm) - suitable for 200-500 ancestors
Your own custom size - suitable for 1000+ ancestors


Family Tree Art Pricing
Each tree is hand drawn to order so a custom quote will be generated for you. However, to give you an idea of cost, the smallest tree starts at $600, including all shipping and handling charges. Please complete the following form to have us generate a custom quote for you.
Having a family tree in your home will not only help you discover more about your lineage but can also save your life. How, you ask? Read on for insights.


What is a Family Tree?
A family tree, also called a genealogy, or a pedigree chart, is a record of your lineage with all your family members throughout history. The tree informs about your family, its development, and your origin. Family trees can be more than that. They can shape how we interact with a community, who we are, and the things we value in our lives. Creating a family tree by yourself can be a daunting task, and you have come to the right place if you want to get started with your research. With the help of experts at recordclick.com and our ready-to-order family trees, you will realize how an extreme reward it is to complete a family tree. Family trees can also impact inheritance beyond the value of recording your origin and ancestors. Sometimes families are fractured by immigration, disease, disaster, war, or other life events. A well-detailed family tree could play a significant role in proving or disproving critical legal questions. Even if you don't discover an aristocratic title or surprise fortune in your family tree, you'll come across fascinating facts about your ancestors and relatives. Other contemporary uses of the family tree include tracking genetics and helping medical professionals answer questions about genetic diseases.


How Do I Create My Family Tree?
A family tree can be simple or complicated, depending on what you want to include. You can only have your parents, grandparents, and great-grandparents to simplify it. If you want to stretch it, you can include aunts, uncles, half-siblings, and so on. Below are some of the questions you should ask yourself before you jump in and start drawing the pedigree chart.
How far do I want to go?
Do I know someone that can provide crucial details for my family tree?
What type of information do I include?
What style do I use to display the family tree? Do I add pictures or just attach names on leaves?


Family Tree Drawings
If you love art and house décor, the available family tree drawings should be your thing. These drawings accommodate any information you wish to include in your pedigree chart. Imagine that classic picture of a massive tree drawn on your house wall. It would complement your interior design and showcase artistic skills in the way you store crucial information. A family tree drawing is a hand-drawn tree with all the details about your genealogy guided by a team of experts that ensure that your data is appealing and balanced. As you can see from the examples provided, you have the freedom to choose the design and type of tree to attach to your family history.


Benefits of Family Tree Drawings
The reasons for using family tree drawings are endless since you ultimately achieve the main goal of detailing your genealogy. However, using a family tree drawing is better than printouts and charts for the following reasons. You work with Experts At RecordClick, we connect you with our experts on choosing the best tree drawing depending on the type of information you want to include. Besides, you will guide the experts on how you want the drawing to come out to match your house theme and express your artistry.


You Perfect Your Art Skills
As you communicate with the drawing experts, you gain insights into their inputs and problem-solving skills. Having the final copy with you lets you practice drawing a similar tree and use it as a guide if you wish to become a professional artist someday.


You Are Involved
Drawing experts at RecordClick can't start on your family tree without your input on desired results and details to include. Therefore, you are a critical part of the drawing, and the artists can't add unnecessary information as this is about your family. Unlike other printouts that you download and fill online, a family tree drawing requires your input from the start to the end.


It Is More Engaging
Who wouldn't want to touch that massive art on your wall? Having a well-drawn family tree attracts other family members and kids into learning their genealogy because it's put so well that it's hard to ignore.


It's Customizable
There's no standard when it comes to family tree drawings. You can request a unique family tree to match your taste and theme. The tree may be of any color, shape, and length as long as it accommodates all the necessary family details and other background pictures. Detailing your genealogy is critical for you and your family. Choose from the variety of family tree drawing sizes available and order one or several today. Feel free to reach out to RecordClick for customized drawings or other inquiries.
PLEASE CONTACT US TO ORDER YOURS
---
There are no products to list in this category.